QuadMaker
QuadMaker is an interactive 64-bit Windows finite element mesh generator that produces 100% quadrilateral elements (shell4) on planar and curved surfaces in 3D space. The supported shapes include flat surface, cylindrical surface, spherical surface, surface of revolution (rev), and general patch surface. With these types of regions, arbitrarily complex geometrical shapes can be constructed
Click here for some example videos.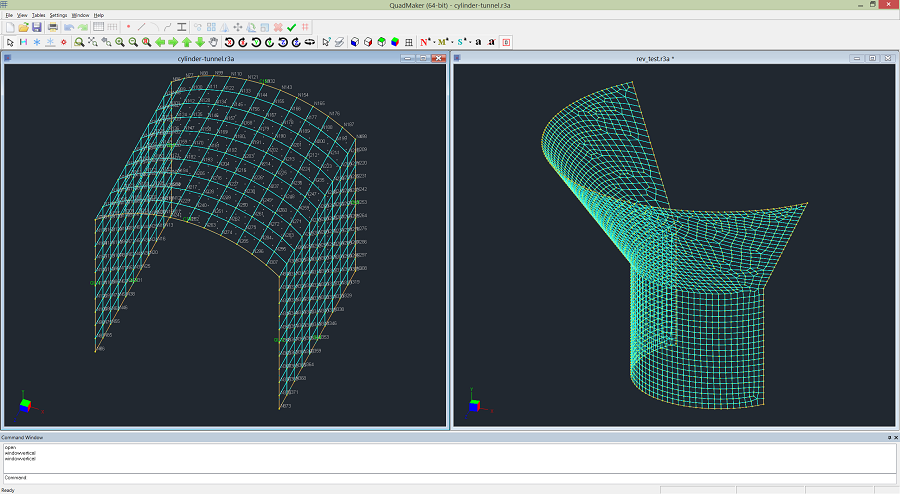 Supported Shapes
Planar surface with holes, internal points, internal lines (trees)
Cylindrical surface
Spherical surface with 2, 3, or 4 edges
Surface of revolution
General patch surface
User Interface Features
Multiple documents may be opened at the same time; each document may have multiple views with different display settings.
Spreadsheets for input data and results.
Graphically drawing nodes, curves via mouse click or keyboard in command window.
Flexible editing features such as undo/redo, duplicate, array, mirror, move, scale, delete.
Automatic mesh generator to produce 100% quadrilateral shells.
Many different selection methods such as window/point select, select by IDs, select by properties, with options to freeze or thaw parts of a model. Ability to pan, zoom, and rotate in real time.
System Requirements
Operating System: 64-bit Windows 7, 8, 10, 11
Copyright 2002-2023, Computations & Graphics, Inc. | All Rights Reserved